I've always loved Winnie the Pooh and crew, so when I saw this personality quiz on another blog I like to read (
Organizing Junkie
) I had to find out which character I would be most like.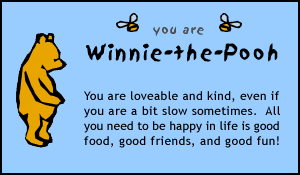 Take the 100 Acre Personality Quiz!
I was actually expecting Kanga, ya know with the whole motherly thing goin' on. But I guess a "round and stout" teddy bear fits as well. And, well, I guess I can be a bit slow at times. lol
Who are you most like?